Implants can support a full arch restoration for people who are missing all their teeth in a jaw. This treatment is life changing as it provides the best replacement for natural teeth, restoring functionality as well as appearance.
Before we consider a patient for a full arch restoration, we take CT scans to assess your jaw density. Bone tissue can degrade for a number of reasons and if you don't have sufficient density, we can provide bone grafting to give the implants enough support.
We also use the CT scans to locate optimum sites for the implants. How many implants you will need depends on your individual case, however it is possible to have four implants supporting the bottom arch and six implants on the top.
Once you have had your implants placed, you will need to take time to heal before having your custom-made arch fitted. We provide a temporary bridge or denture for you to wear in the meantime to protect your implants while they heal. How long the healing process takes depends on the complexity of the treatment. If the procedure needs bone grafting, it will take a minimum of 6 – 12 months.
It's possible to provide a full arch restoration on the same day as your implant treatment. Known as 'Teeth-in-a day' or 'Same-day-smiles', these lab-crafted teeth can be placed on four implants.
I want to thank you for the successful new mouth that you have achieved for me. I am very pleased with the result.

There cannot be many who feel no trepidation at the thought of having four implants with a central bridge between them, but I had a much better experience than expected and feel grateful for the efforts that you made to keep any pain to a minimum.

The whole process has taken quite a while and several necessary stages, but it has all been worthwhile as the new teeth have worked very well from the moment of being finally fitted by you and with no apparent problems.

At 82 years of age I had to consider carefully whether it was worthwhile having implants but now feel that it definitely was. I came to see you through recommendation and would certainly recommend you to anyone considering implants and other dentals treatment.

My thanks to you and all the team at the practice.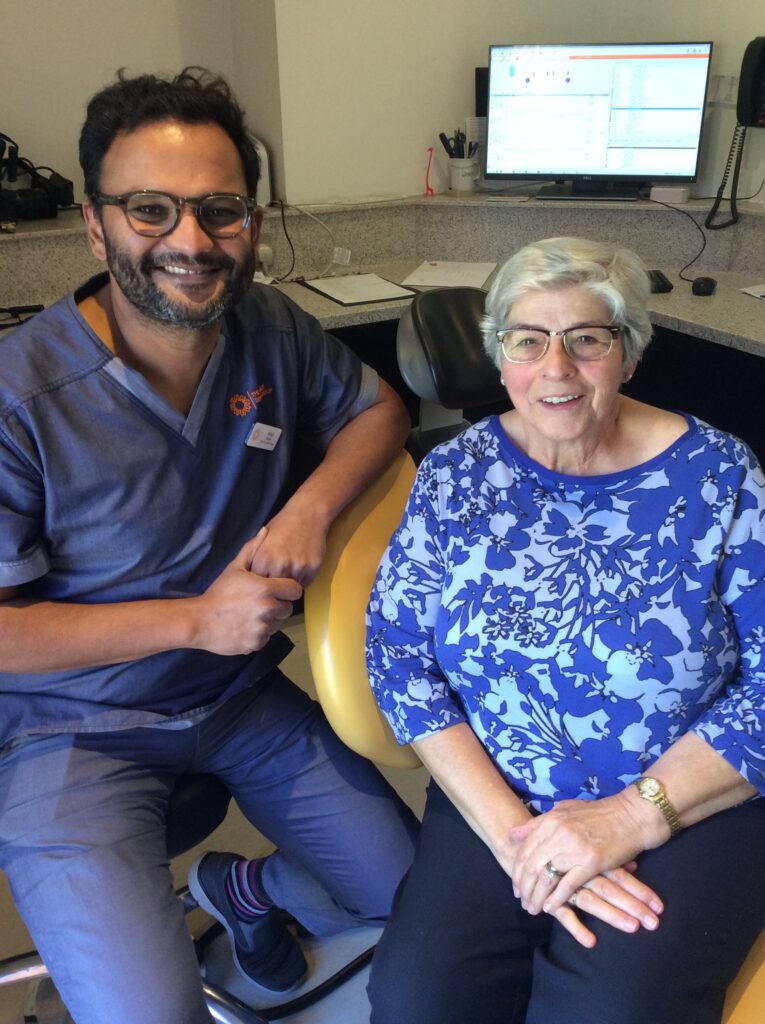 Lorem ipsum dolor sit amet, consectetuer adipiscing elit, sed diam nonummy nibh euismod tincidunt ut laoreet dolore magna aliquam erat volutpat. Ut wisi enim ad minim veniam, quis nostrud exerci tation ullamcorper suscipit lobortis nisl ut aliquip ex ea commodo consequat. Duis autem vel eum iriure dolor in hendrerit in vulputate velit esse molestie consequat, vel illum dolore eu feugiat nulla facilisis at vero eros et accumsan et iusto odio dignissim qui blandit praesent luptatum zzril delenit augue duis dolore te feugait nulla facilisi. Lorem ipsum dolor sit amet, cons ectetuer adipiscing elit, sed diam nonummy nibh euismod tincidunt ut laoreet dolore magna aliquam erat volutpat. Ut wisi enim ad minim veniam, quis nostrud exerci tation