Here are some of the comments The Gallery Dental and Implant Centre has received from patients. If you would like to give us feedback on your dental treatment, please email us.
As a patient of Meadow Walk Dental Practice for over thirty years I cannot thank the staff enough for their care and support during all that time. I have always felt at ease in the friendly atmosphere. Dr.Balaji has recently fitted an implant for me and I was given clear and concise explanations throughout and suffered no pain or discomfort at all even though I had been initially apprehensive. I was very impressed with the whole experience from a friendly and welcoming receptionist, supportive and encouraging nurses and the professional expertise of the dental procedure. Thank you all once again.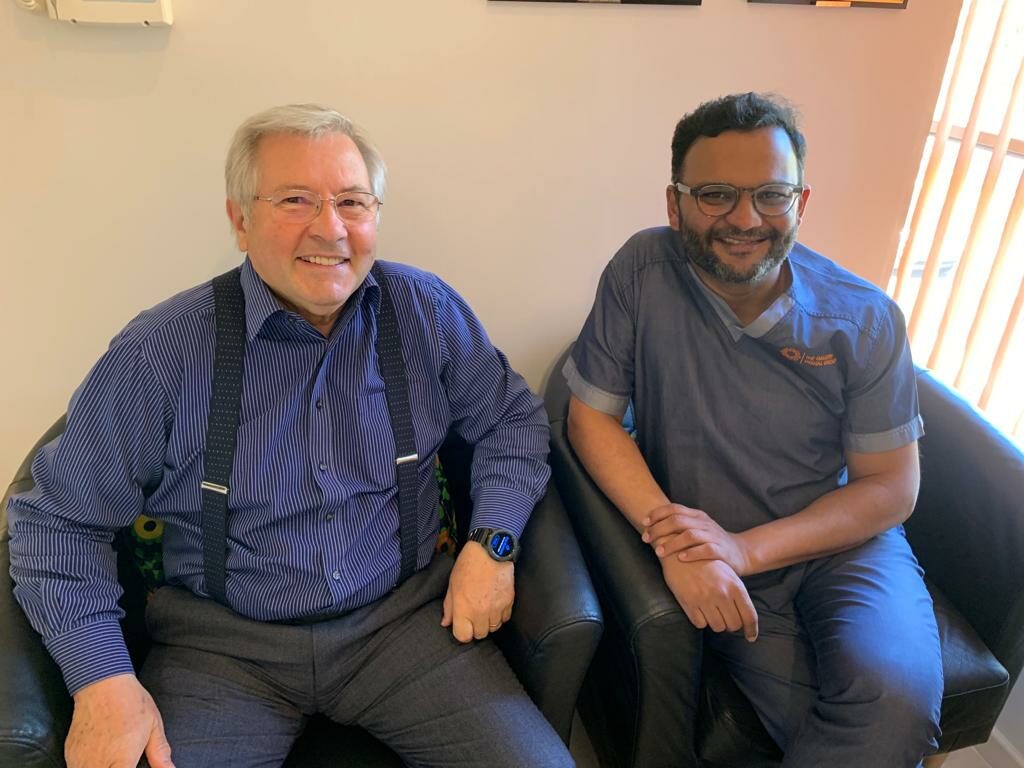 As someone who has suffered gum and dental issues for nearly 20 years, I must comment on what a great find The Gallery practice has been. From the initial contact of Magnificent Magna on reception, all the way through the service and care is exceptional. Of particular mention has to be the consistency of the monitoring, care and overall customer experience. For anybody with a nervous or reticent disposition who requires any form of dental care I have no hesitation in recommending The Gallery practise.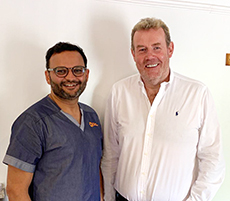 Before my treatment, I hated having my photo taken, but now I can say I have my smile back! Throughout my treatment I was kept fully informed and given options, which helped to make me feel comfortable with all of the procedures that I had. The team instilled confidence and I always felt well looked after. I am incredibly happy with the results of the treatment as I can now smile with confidence and eating is easier. I would recommend anyone come to this practice and I have already done so in the waiting room!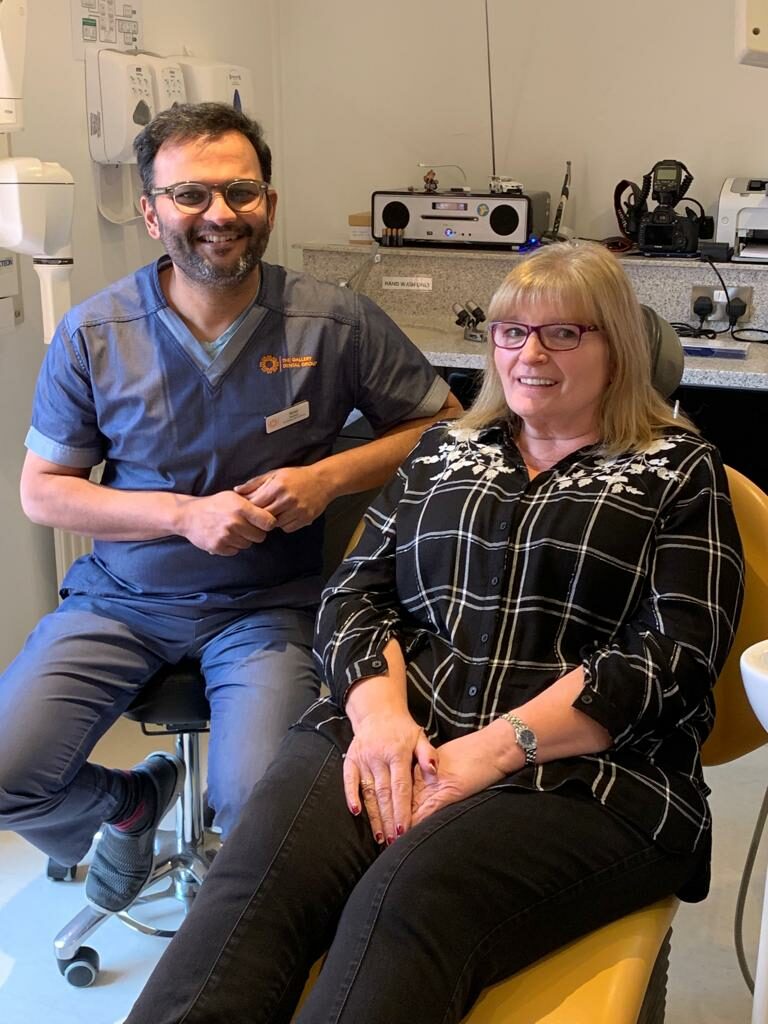 I am delighted with the two new implants at the back of my mouth. It is a joy to finally be able to chew on both sides of my mouth again.
Balaji is a kind, professional and caring dentist who genuinely wants to do the best he can for his patients and he takes pride in his work. He explains all the steps involved beforehand and makes the procedure as painless as possible. I would thoroughly recommend Balaji and his team to anyone who is considering having implants. Go for it – you won't regret it.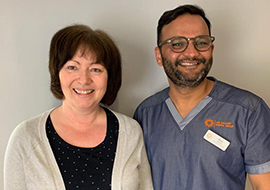 Quality service from the moment you enter and speak to Magda on reception to when you have treatment whether it's with the hygienist Balaji, or any other member of the team. Top drawer!
I was having difficulty chewing at the back of my mouth when I contacted The Gallery Dental and Implant Centre. When I arrived, the answers to my concerns gave me confidence in the treatment I was about to receive. The outcome was excellent and worked exactly as described at the outlet.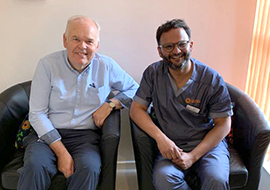 Hygienist Kate was fantastic, very knowledgeable and explained everything she was doing as well as giving me advice on future care between visits.

To begin with I had a problem chewing on the side of my mouth. I have been kept well informed throughout the treatment I have been provided, and everything has gone smoothly. The implant is perfect – a 'natural' tooth that looks good and functions well. The care I experienced was fantastic, and then some! I'm even able to enjoying eating more now that there are no restrictions. Overall a first class service that I highly recommend.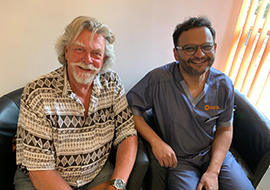 I had two large gaps in my teeth and I was struggling with my smile. The team at the practice were both professional caring, offering expert advice and support. I am really happy with the treatment that I have received.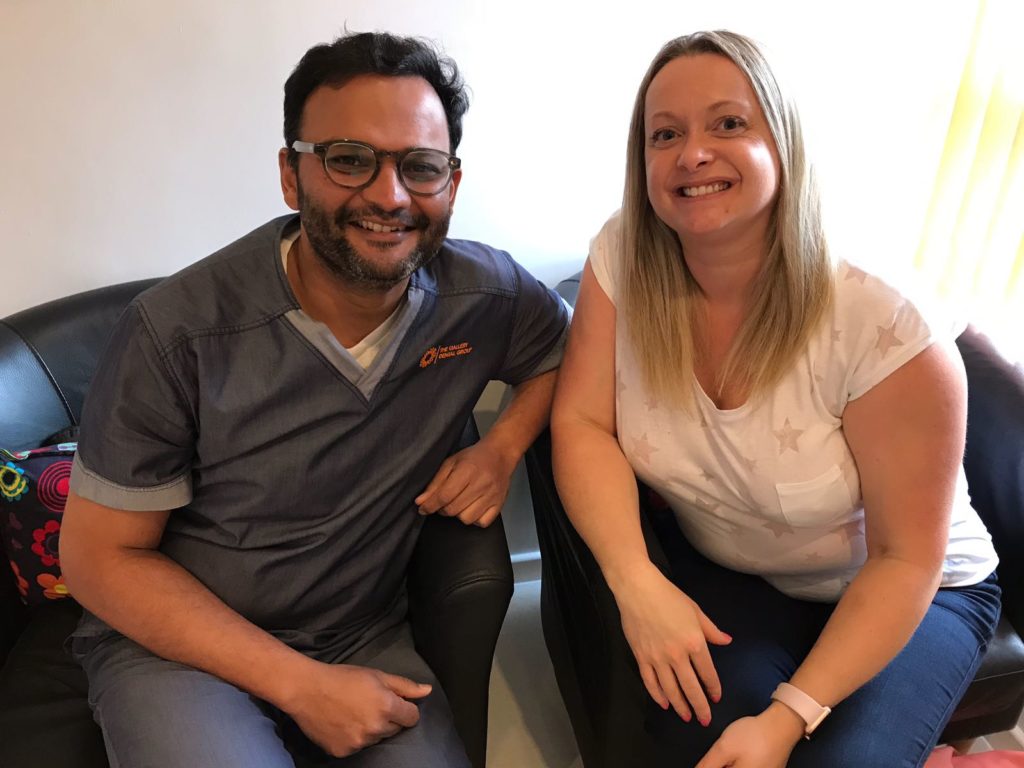 Well I'm not sure where to start. Firstly a massive thank you to Dr Balaji and all of the team at the Gallery for giving me back confidence in myself again and my smile. I was referred to the Gallery Dental Centre just over a year ago. My previous dentist explained that I would need more expert treatment on the very few teeth that I had left on the top. I was very nervous on my first appointment as over the years because I've always had problems with my teeth and I had built up a great fear of all dentists. But on that first appointment Dr Balaji and his team made feel really at ease and cared for, and for the first time I felt that he totally understood my fears ,and I didn't feel embarrassed at all. Dr Balaji explained the options that were available to me in great detail and answered the many questions I had. I did feel that what I was going to have done was massive but Dr Balaji and everyone at the Gallery gave me so much reassurance along the way. Thad all of my top teeth removed, then had 4 implants placed after some amount of bone grafting. This was carried out under sedation and I can honestly say that I felt or remembered nothing about the surgery. The after care that I received was great with telephone calls with advice and addressing any worries or concerns. The healing went really well and during this time Dr Balaji then started to prepare my new teeth. My new teeth were fitted in December 2018. I am so happy with them it made a massive difference to life in so many ways, with eating and my confidence. I would recommend Dr Balaji and all his team to anyone looking for expert dental care. Once again I would like thank you for all.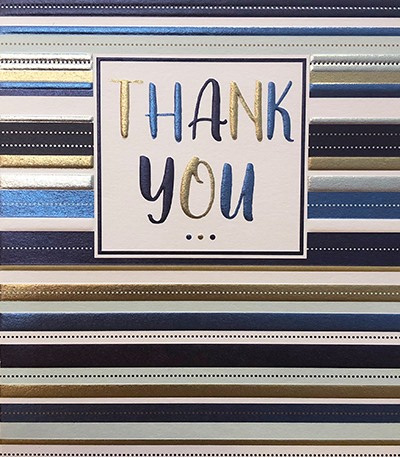 It is now nearly six months that my implants were "installed" and from start to finish I have been well looked after and am absolutely delighted with the end product after giving them an extremely vigorous workout. Balaji always kept me well informed as to any details regarding the procedure of which I was pleasantly surprised to find was pain free. I would not hesitate to have further implants.

Before I received treatment, I was very weary about smiling in public because of the condition of my front tooth. The team at The Gallery were very good from start to finish in fully informing me about the treatment options. They made me feel very comfortable and any prior concerns I had were addressed.
Now that I have received the treatment, I feel much more confident in my day to day and I am very pleased with the results.
I would highly recommend the practice based on the level of care and the quality of the treatment that I was provided.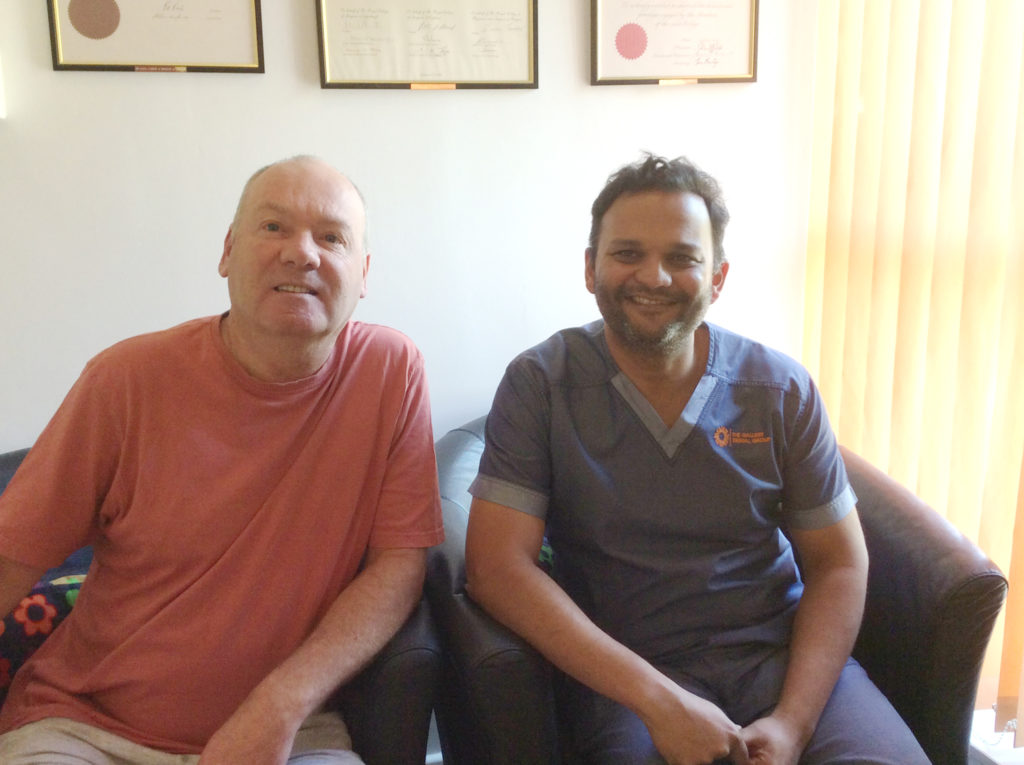 I was always conscious about the gap where two teeth were missing and I rarely ate on that side. When I came into the surgery no detail was left out and I was completely confident about the whole procedure. I was surprisingly relaxed and it was no different than any dental procedures I'd had before. Everyone was just lovely and went over and above to make me comfortable. I love my implants and I am always showing people! This treatment has affected my life for the better – I only wish I had done it earlier and not waited for 10 years. I have recommended this practice to lots of people and have shared my positive experience and casting aside any fears that they may have.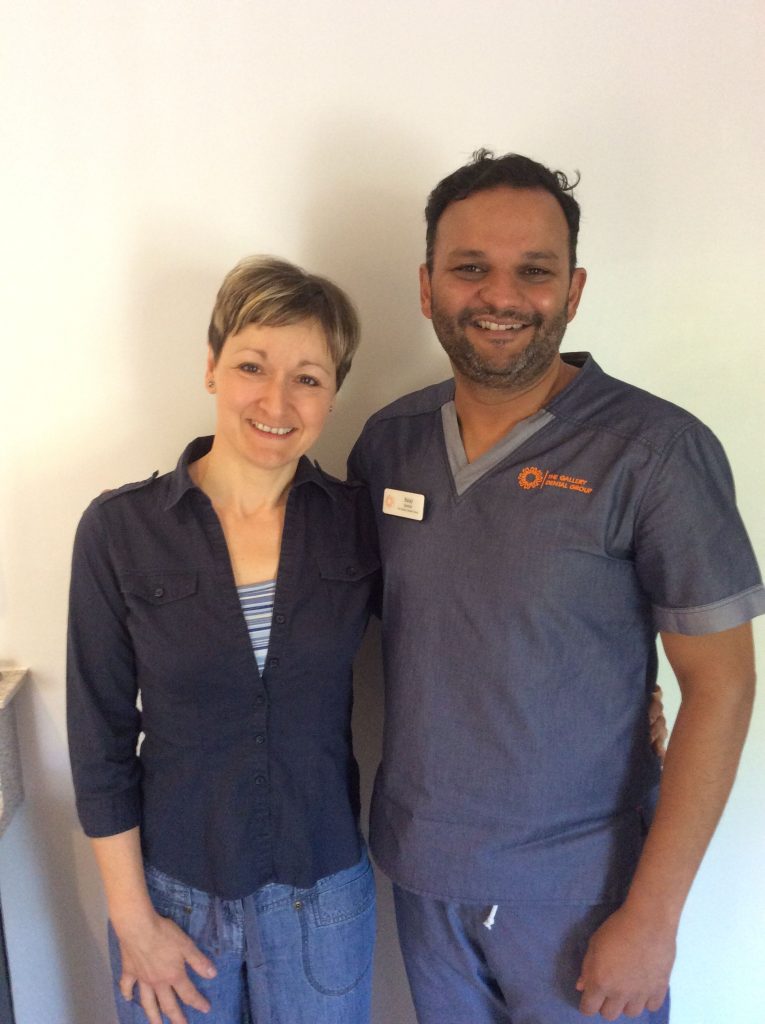 I want to thank you for the successful new mouth that you have achieved for me. I am very pleased with the result.
There cannot be many who feel no trepidation at the thought of having four implants with a central bridge between them, but I had a much better experience than expected and feel grateful for the efforts that you made to keep any pain to a minimum.
The whole process has taken quite a while and several necessary stages, but it has all been worthwhile as the new teeth have worked very well from the moment of being finally fitted by you and with no apparent problems.
At 82 years of age I had to consider carefully whether it was worthwhile having implants but now feel that it definitely was. I came to see you through recommendation and would certainly recommend you to anyone considering implants and other dentals treatment.
My thanks to you and all the team at the practice.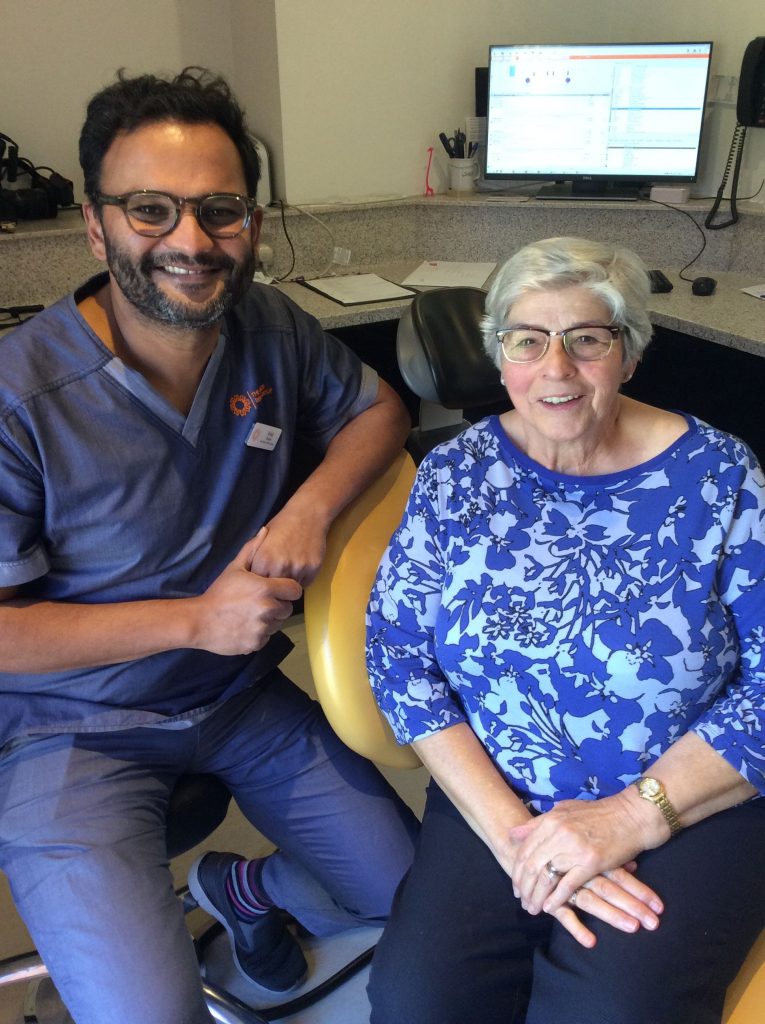 I've been a patient of Dr. Balaji for six years now. Prior to that I struggled to find a dentist who really took the time to listern to concerns and the paid that I was experiencing in my teeth. Dr Balaji took the time. He is the best dental surgeon that I've ever been to. He is always very thorough in his explanations of suitable treatment options.
Dr Balaji has a very kind, sincere personality and always makes me feel comfortable.
The entire team at The Gallery are all very professional and friendly and take the time to care about you personally.
I would highly recommend the practice to anyone who is looking for the best dental treatment and reassurance that you will be well looked after.
Thank you very much for my lovely new teeth and all the care I have received over the last 6 months from all of you. I was very nervous about the procedures to be undertaken. You have all made me relaxed and comfortable at all times. Sending my thanks and best wishes.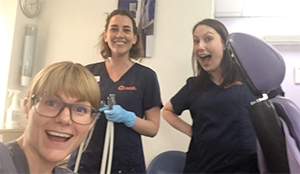 Before I came to the practice, I had rampant gum disease, and frankly I was scared of losing my teeth. Kate has helped me get my gums back to a healthy state, and she is always kind and gentle.
The biggest improvement I have had is my front six teeth. After many years of poor dental work Balaji managed to replace my old crowns with some super natural looking teeth. People always comment on how great they look. Balaji has changed my attitude to coming to the dentist entirely. I completely trust him and he makes me feel relaxed.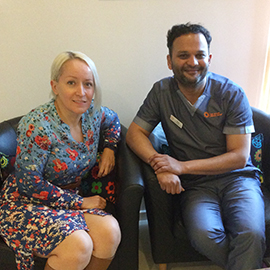 I have always been a nervous patient and found it a struggle to attend dental appointments calmly. Dr Balaji is such a gentle dentist and always has time to listen to any dental concerns I may have. Even if I need injections they no longer upset me. There is always a kind dental nurse at hand who is equally as gentle as Dr Balaji. My children also see Dr Balaji and do not have any fears of attending the dentist. I feel very fortunate to have found a dental practice that provides such outstanding care and cares for patients like me.

If there is anyone out there who is in need of dental services of any kind, I can strongly recommend The Gallery Dental Centre. All the staff are extremely friendly, as well as being hugely talented. For someone like me who used to find every visit to the dentist a fear-inducing experience, the quiet confidence of The Gallery has been an oasis.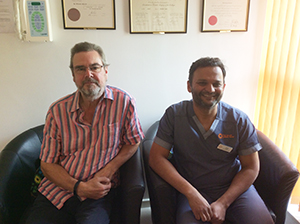 I have been under you and your teams care now for a number of years and thanks to you all I could not be happier with all the results in the implants, crowns and hygienist departments.
But at the front of your team arranging all your appointments is Magda, who has without doubt the most perfect attributes one could find in a receptionist.
From my own personal experience of having to recently cancel appointments to see yourself and Kate, Magda could not have been more helpful in attempting to re-book them at the earliest possible opportunity.
Relying on other cancellations to get me appointments sooner than was initially available must have been very frustrating as she rung me a number of times with days that I unfortunately just could not attend. Undaunted and unfazed, Magda neither neglected nor gave up until it was smiles all round when she rang me yet again with a next day appointment I could attend for both yourself and Kate.
Nothing was, or is, too much trouble for Magda who exudes the most friendly and happiest of attitudes whether on the phone or in person.
Magda is clearly a dedicated person and would be an asset to anyone, but thankfully for us all she's within your practice at this time.
Dear Dr. Balaji,
Today is my final examination of my dental implant.
First, I want to thank you most sincerely for the wonderful implant and crown, it looks amazing. It was a huge decision for me to spend this amount of money on one tooth. What I did know was that I didn't want a plate or any kind of solution which would require me putting in and removing a false tooth. The dental implant is extremely comfortable and feels that I have a complete set of my own teeth.
Throughout the entire process I have found your explanations of what will be happening each time I visit you easy to understand and I have felt your gentle, calm demeanour very reassuring. Your dental assistant was also very encouraging especially when I was dreading the sinus graft. I absolutely hate going to any dentist so this has been a huge thing for me.
Added to this I must mention of Magdalena your Receptionist who is a breath of fresh air. She is a sunny smiley person and although I would turn up nervous she is always there with a lovely sunny greeting which also had a calming effect on me. She is a great asset to your practice.
Thank you so much from the bottom of my heart. I love my new implant!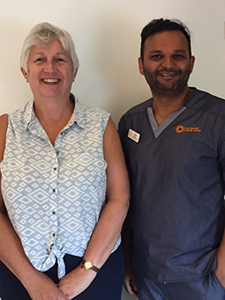 I love my new teeth – they are just what I wished for, look fantastic and love it every time I look in the mirror!
The staff made me feel at ease throughout my treatment and made me feel very cared about. Any questions I had were very well explained and answered with detail. The team are very caring and extremely pleasant. They made me feel important. More importantly, the level of care I received totally exceeded my expectations.
I couldn't be more please and wished I'd done it years ago, so I would definitely recommend a friend the to visit the practice.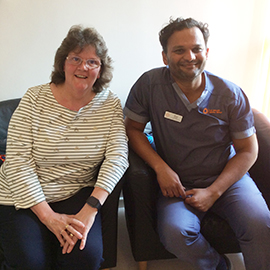 My wife had a major implant by you about five years ago and today, en route for our regular check up, she commented on how wonderful it had been. As you know, I am 79 and my wife is 77 and we would never dream of going to any other dentist, as you and your colleagues always make us feel so relaxed and comfortable. More importantly, you look after our dental health brilliantly. Please pass on our thanks to everyone at the Gallery.

Before I received by restorative treatment, everything was explained in great detail and was easy to understand. I was made to feel comfortable and the concerns that I did have were dealt with in a satisfactory manner.
The team went out of their way to make the experience as pleasant as possible, and the quality of the care was above my expectations.
I am very happy with the result of the treatment. It has made feel significantly more confident with social activities, so I would definitely recommend the practice!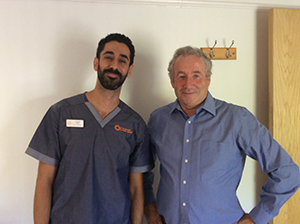 I'm delighted with the treatment I received at The Gallery. From the moment I arrived, I was made to feel as comfortable as possible. Everything regarding my treatment was clearly and concisely explained to me any prior concerns I had were quickly put to rest.
The quality of care I received from all the staff involved from arrival to departure was impeccable, and I would highly recommend anyone considering having dental treatment to get in touch with this wonderful dental practice.
Colin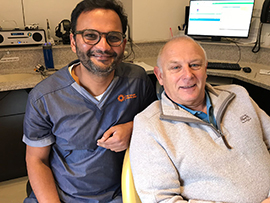 I am a long-standing patient of The Gallery Dental Practice and have always found all the staff to be very professional, friendly and welcoming. The care my family and I receive has always been of the highest standard. We can actually say that going to the dentist is a pleasure!
James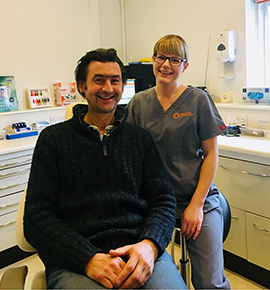 30th August 2018
My wife and I have been patients of Dr Balaji for 7 years, we have always found the Gallery very welcoming, the reception is always warm and friendly. Dr Balaji will always make you feel special, he has genuine concern that you are happy with your treatment and will make the experience as pleasant as possible. Dr Balaji is well qualified and this instills confidence in his patients. We have also been patients of Kate since we joined the Gallery and Kate is equally as concerned that your experience is as pleasant as possible. I have never in my 65 years been more happy with my Dentist and Hygienist as I am now. Thank you to the whole team who look after us from initial welcome to when we leave.
Kind Regards
Joh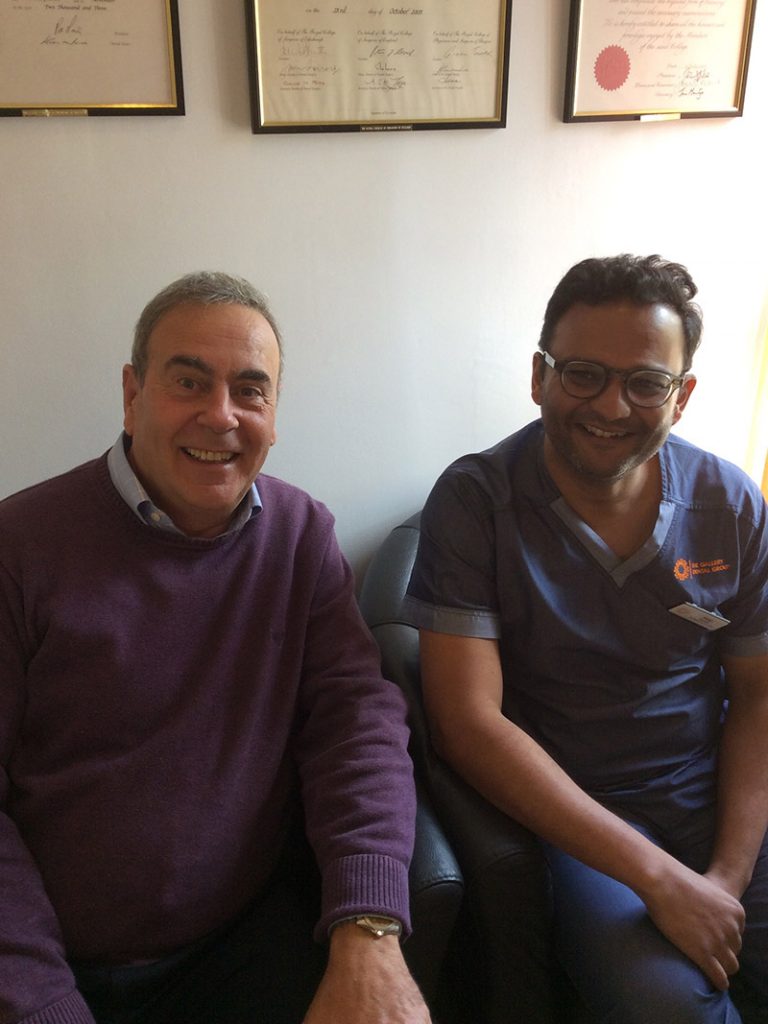 Dear Dr. SeluaraJ Balaji & Dr. Evangelos Viskadourakis
Janet and I have been patients at Dr Balaji's Dental Practice for many years and we thought the time had come for us to pay tribute to the splendid treatment we have always received.
We are particularly pleased that Dr Balaji persuaded us a few years ago to have implants which were made without pain. In my case the implants filled a gap on one side of my mouth which had been there for 60 years and this treatment has made a massive improvement. All the other treatments we have received have also been exemplary. My daughter in law Julie Strickland had a long course with Dr Balaji to straighten her teeth and she is very pleased with the result.
Recently Janet and I have had the pleasure of being treated by Dr Evangelos Viskadourakis and without doubt he is in the same mould as Dr Balaji with first class treatment.
What is so nice about the practice is the welcome one receives and the pleasant attention of the staff.
I should also mention the first class treatment by the hygienists whose surgery I have been known to rudely refer to as 'The Torture Chamber'. To be serious I am aware that the work and advice of the hygienists is a very important part of keeping our teeth in good shape.
Over more than 60 years Janet and I have attended a large number of dental practices as we have moved around the country but without doubt the Balaji practice is the best one in every respect and we hope that we will be able to make the longish journey from Wing to Buckingham for many years to come.
Yours ever
Charles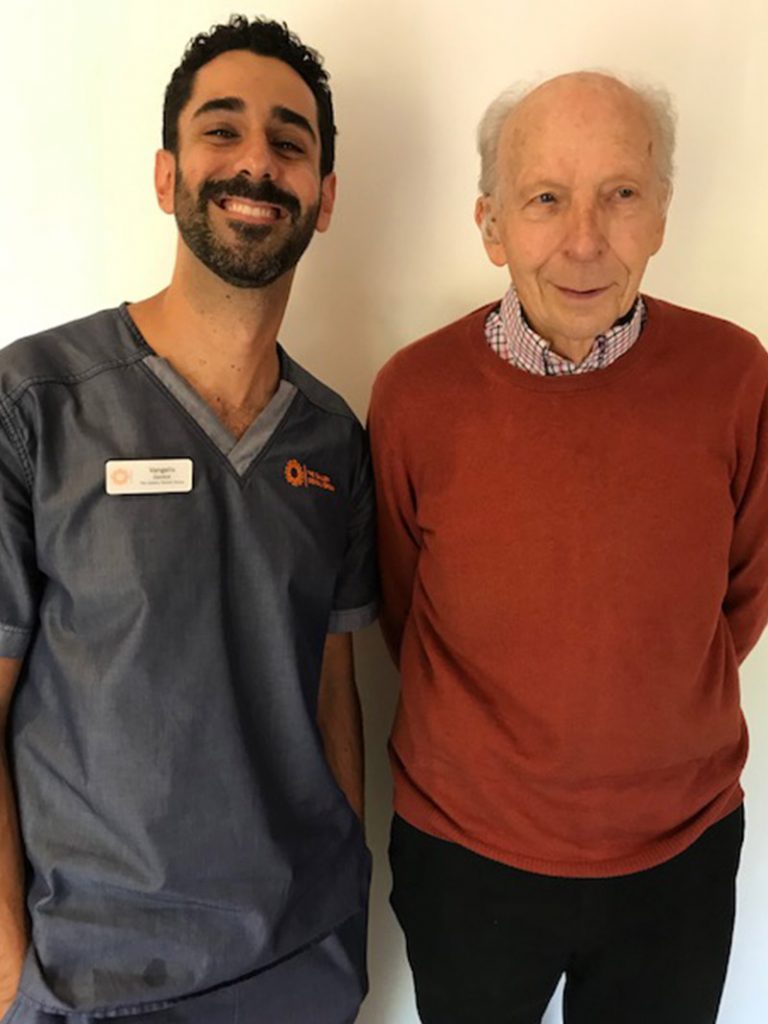 Before undertaking this treatment how did your smile/teeth affect your day to day life? Did you struggle with eating? Was you confidence affected by your smile?
Had treatment due to an accident
When you began the treatment process was everything explained to you in a way you could understand? Do you feel you were fully informed before making any decisions?
Yes
During the treatment how did you feel? Were your concerns addressed? Were you made to feel as comfortable as possible? Did you feel that there was more that the team could've done to improve your experience?
Everything was fine.
Did the quality of care you experience meet your expectations?
Now that the treatment is complete how do you feel about it? Is there more that can be done to improve the outcome? If not please describe your results.
Feel good happy with everything
Has your experience with our dental team and treatment affected your life now in any way? Is your confidence improved? Do you find eating or socialising easier and more enjoyable?
N/A
Would you recommend friends and family to our practice? Do you feel that others would benefit from the same treatment options that you undertook?
Yes I would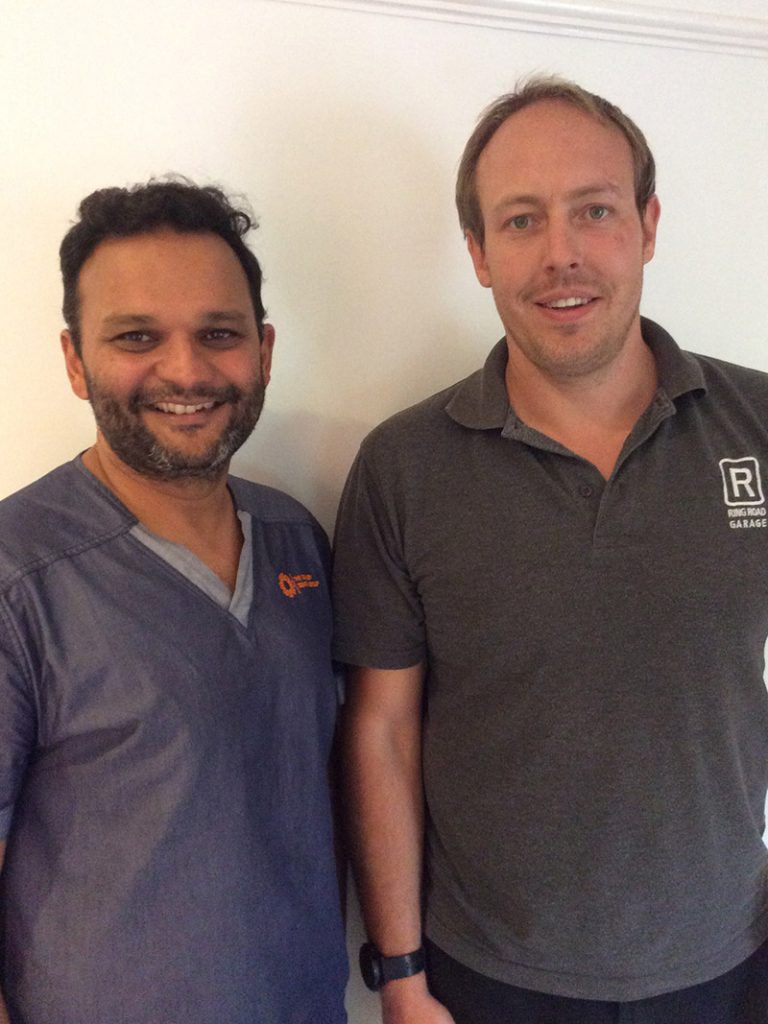 I was a very nervous patient with other dentists, and I was apprehensive at the start because of what having the implants involved. But I was soon put at ease and had total confidence in Balaji's professionalism. Nothing more could have been done and as a result I was relaxed during the whole procedure and felt no discomfort. Aftercare was excellent and I made a very quick recovery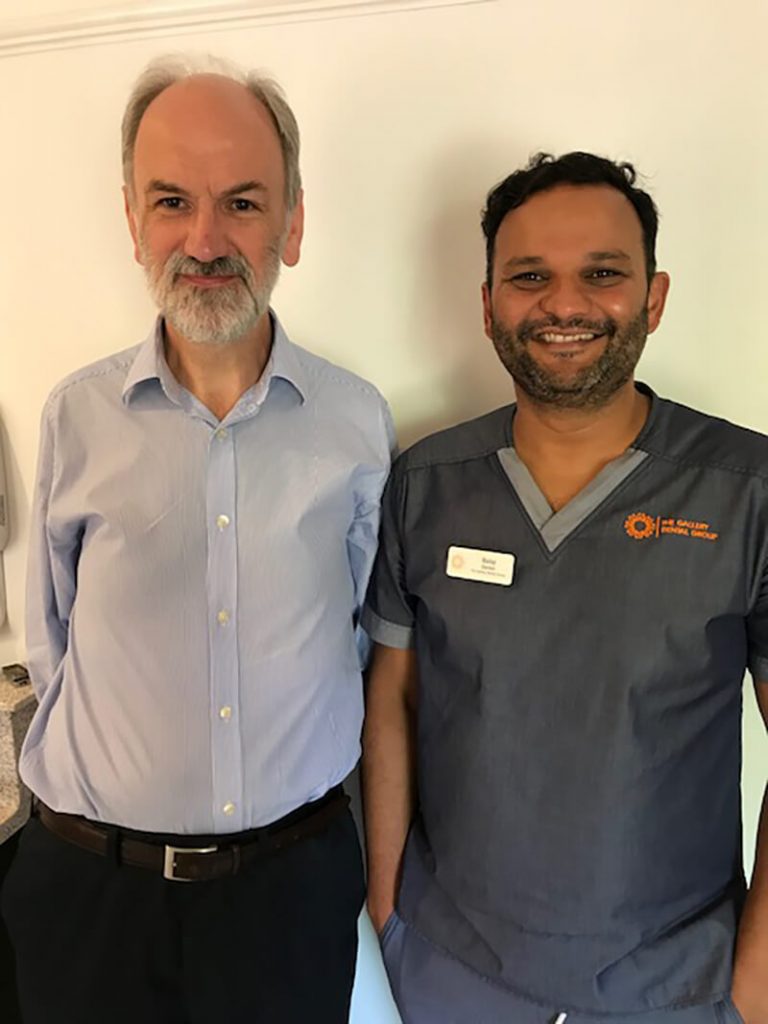 Before undertaking this treatment how did your smile/teeth affect your day to day life? Did you struggle with eating? Was you confidence affected by your smile?
Not aware of any problems affecting my day to day life. I undertook the treatment to preserve my dental health.
When you began the treatment process was everything explained to you in a way you could understand? Do you feel you were fully informed before making any decisions?
I was fully informed both before and during the treatment. Explanations were clear and informative. I appreciated written explanations as well as spoken.
During the treatment how did you feel? Were your concerns addressed? Were you made to feel as comfortable as possible? Did you feel that there was more that the team could've done to improve your experience?
I felt very comfortable during the treatment. I had no particular concerns but if they had arisen I feel sure that they would have been discussed. No, I can't think of anything more that could have been done.
Did the quality of care you experience meet your expectations?
Yes. All members of the team were warm, friendly and extremely professional.
Now that the treatment is complete how do you feel about it? Is there more that can be done to improve the outcome? If not please describe your results.
I am extremely pleased that I was able to undergo the treatment. It is important to me that I do all I can to preserve my dental health and avoid as far as possible what may come as a result of neglect.
Has your experience with our dental team and treatment affected your life now in any way? Is your confidence improved? Do you find eating or socialising easier and more enjoyable?
I cannot think of anything specific as I undertook treatment as a preventative measure. I assume I am able to act in a way now that will lessen the chance of digestive problems that might have arisen otherwise.
Would you recommend friends and family to our practice? Do you feel that others would benefit from the same treatment options that you undertook?
I would highly recommend the practice. I am sure that others would benefit from the same treatment that I had.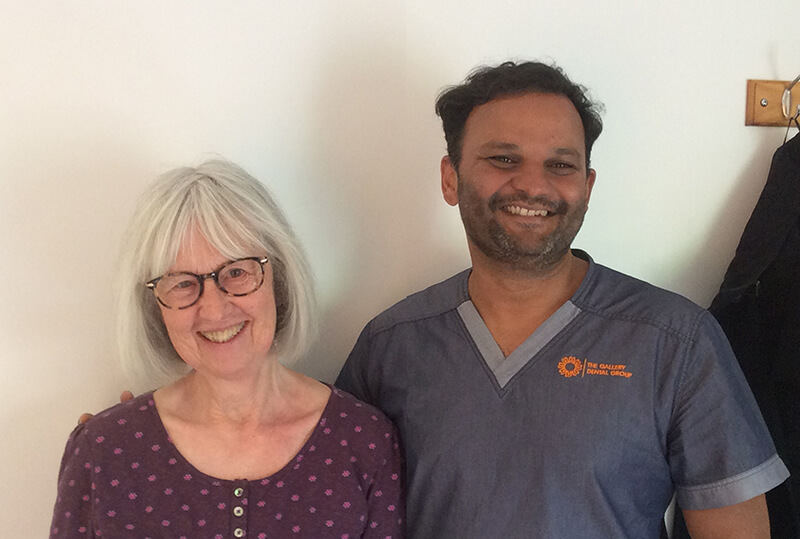 Last year I was introduced to The Gallery Dental Surgery. I was a very, very, nervous patient having had a very bad experience some years ago. I was so nervous that I had attempted, and failed, to visit 3 dental surgeries over the last 4 years, leaving in a panic before even seeing a dentist. I then found Dr Balaji. My initial visit to The Gallery was a whole new experience for me. I was treated with understanding and kindness by everyone and have never looked back.
Last year I had extensive implant and bone reconstruction surgery and I am truly delighted with the result.
Dr Balaji is an amazing dentist and I cannot thank him and his team enough.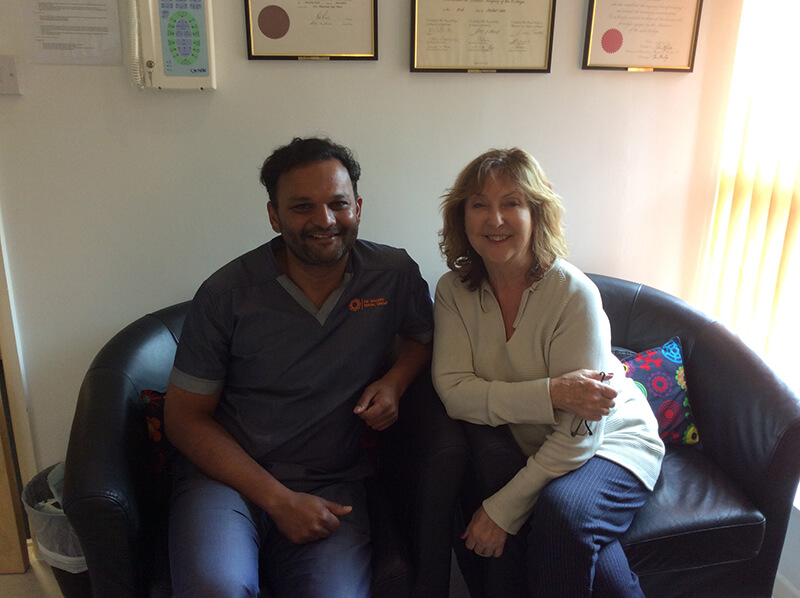 The care and advice you and the staff at The Gallery Dental and Implant Centre have given me has been brilliant, this includes Annie (Hygienist), dental staff and the receptionists.
I would also say that I have always been sceptical about the true value of visits to Hygienists but the detailed treatment I received from Kate Barker was the most meaningful I had experienced.
I would (and already have) whole-heartedly recommended The Gallery Dental and Implant Centre for the provision of veneers or implants, and also for hygienist work too.
I have received so many positive comments already about my 'new teeth', and the confidence in my smile has returned. I am so happy with them, I think they are perfect.
Dr Balaji and his team are very professional and friendly, and I would not hesitate in recommending The Gallery Dental and Implant Centre to anybody who may need services of this kind. I actually cannot think of any way in which the surgery could be improved.
In addition to Dr Balaji it must be noted that his team are an exceptionally friendly bunch, I almost feel like I am part of the team, and this is due to their obvious enjoyment of their jobs and their willingness to help – not to mention their outgoing friendliness too.
I am really pleased with the treatment I have received from Mr Balaji and his staff. They have been considerate and helpful and the results have been wonderful. They have done their utmost to fit appointments around my work pattern. Mr Balaji explained each stage of the treatment and made sure that I understood what was involved…
My new teeth have changed my life. I can now eat anything and am able to enjoy a nice steak, something I haven't been able to do for years. It's also been good for my general confidence, as I no longer have to hide my teeth when I smile.
Balaji is clearly a most talented surgeon, I was always confident, despite the difficulty of the operations, that eventually everything would be fine. Not only is he a gifted surgeon but he is also a most caring person; a gentleman is every true sense of the word.
I can now confidently say that no steak is too tough, no bap too thick or my wife's pastry too hard (the last one was a joke!) for me and my implants.
WORTH EVERY PENNY AND TOTALLY RECOMMENDED!
I enclose a letter of thanks to you and all the staff, following my treatment for implants. I think I have one more appointment to make but I am already feeling the difference and am really pleased with the results.
I would like to say thank you to all the staff involved in my treatment. Everyone was very helpful, kind and understanding.
Several months have passed since my dental implant treatment was completed, they have been joyous months. I am now able to crunch my way into apple, steak and crust with a pleasure long forgotten.
Throughout my experience I was always dealt with in a professional and amenable manner, I was able to choose the shade of teeth I required, my wishes, fears and concerns were taken into account all the way through my treatment, and I am extremely happy with my new look, it has given me the confidence to smile and not worry about how my teeth look anymore.