Your teeth can lose their youthful whiteness for a variety of reasons including smoking, trauma, certain medications and heavily pigmented food and drink. We can combat any discolouration and noticeably lighten your teeth with our safe whitening procedure.
We use the Enlighten system, as it produces long-lasting results and features low sensitivity. The bespoke mould fits you perfectly and you simply wear this for around two weeks with the effective lightening gel. This at-home treatment is followed up with a final in-chair session.
Lasting results
Does not affect tooth enamel
Cost-effective way to enhance your look
Magda is thrilled with the results of teeth whitening.
I've been thinking about teeth whitening for a long time and I decided to treat myself for my 23rd birthday. The whole process took around a month, from taking impressions of my teeth for the whitening trays to the final in chair treatment at the Gallery. I noticed the gradual change started after the first 3 day of using the gel overnight (There are 14 days in total). I couldn't be happier and whilst I was taking birthday photographs with my family I am no longer conscious about my smile.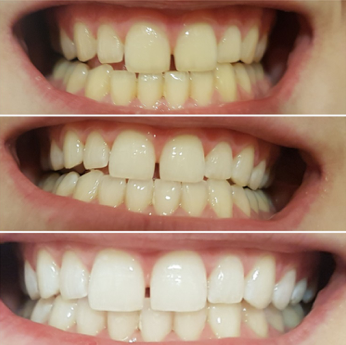 I can say that is was worth treating myself to teeth whitening as it has changed my confidence about my smile.
Dr Balaji and his team are highly professional and efficient. What is more, they are welcoming and kind and appear to have all the time in the world. The calm and quiet welcome each time is so important in setting the patient's mind at rest. Dr Balaji has now done three implants for me and I could not have asked for better treatment and results. Thanks to his whole team.
A clearer route to a straighter smile
If you are unsure about wearing fixed metal braces but yearn for straighter teeth, we can use a series of clear, custom-made aligners to move crooked teeth to an improved position.
Designed using 3D technology, each aligner is just a little different and worn for around two weeks at a time. This exerts gentle forces which gradually realign your teeth.
Invisalign is a much less noticeable way to achieve a more attractive smile and as the aligners can be taken out for short periods, they will fit in nicely with your life too.
Virtually invisible
Removable
Tailor-made
Snugly fitting and unobtrusive
If you are a suitable candidate for this adult-friendly treatment, we take impressions and photos, and collect other information about your teeth. We then use special 3D technology to create a personalised plan, which shows how your teeth will move and also how they will look after treatment.
When the aligners are ready, you will wear a different one every two weeks until the carefully controlled force shifts your teeth to a better position. You may feel minor discomfort when a new aligner is fitted but this is usually just a feeling of pressure and a good indicator that the treatment is working.
Treatment times will vary depending on your individual issue, but most cases are completed in 6-12 months. As the aligners only work while you are actually wearing them, we recommend they are kept in place for 20-22 hours per day.
To conceal and strengthen
Our hard-wearing, tailor-made crowns fit perfectly over unsightly teeth. They provide a particularly durable way to restore strength and conceal damage or discolouration, and they blend in beautifully with their neighbours.
Hide imperfections
Protect and strengthen
Natural-looking
Hard-wearing
Confidence-boosting
To mask those little flaws
Veneers are very thin porcelain covers used to create a fresh, natural-looking front surface for your tooth. We use these to enhance your smile, whether you want to close a small gap, lighten the appearance of a heavily discoloured tooth or cover a small chip.
Natural-looking
Minimally invasive
Long-lasting
A long-lasting, gap-filling solution
Our natural-looking bridges can help fill in those gaps that are making you reluctant to smile and interfering with how your mouth functions.
Carefully crafted from tooth-coloured materials, they usually consist of a false tooth supported between two crowns, which are placed over the teeth either side of a gap.
Realistic-looking
Can improve eating and speaking
Keep natural teeth in place
Durable
If you are looking to spruce up your smile, we can assist with our range of beautifying cosmetic treatments. We can give you a brand new look using a mix of treatments or treat you to a subtle boost with a touch of teeth whitening. It's amazing how even the tiniest of changes can leave you looking and feeling totally rejuvenated.
Take your pick from the following smile-enhancing treatments:
Crowns – mask unappealing teeth
White fillings – replace unattractive metal ones
Veneers – disguise smile spoiling flaws
Invisalign – straighten teeth imperceptibly
Whitening – freshen up your teeth
Dental implants – fill in any glaring gaps
Fancy looking 10 years younger?
We offer a FREE consultation for whitening, teeth straightening and facial rejuvenation– a combination of treatments designed to create a more youthful you!
Facial rejuvenation – a combination of treatments designed to create a more youthful you!